i always love reading these random link ups, so i decided it was time to join in!
- my hands and feet are always cold. whether it's the dead of winter, or a hot summer day, my hands and feet feel like ice... that's normal, right?
- i could eat watermelon for days
-planning things, events or parties, is my favorite thing to do
-whenever i want to be creative but can't think of what to do, i pull up my drafting software on my computer and design my dream home... i've got about a dozen designs and one day i will build one of them
-this week is the kick off of the basketball program at church. the next eight weeks straight will be filled with games, practices, basketballs, pom poms, ribbons, and jerseys. and i don't hate it!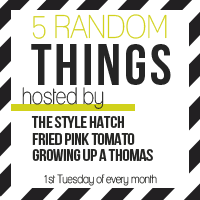 visit
Nicole
,
Jamie
, or
Ashlee
to see the rest of the bloggers linking up!